My husband and I are huge fans of Jack Johnson and we recently got a chance to see him in concert at the Virginia Beach Amphitheater for his "To The Sea" tour. Jack is one of my favorites not only because his music is awesome, toe-tapping, sing-along goodness; but also because he does what he can to help the environment and encourages others to do the same. While he's on tour, he makes a major effort to reduce the carbon footprint of the tour itself, and also educates his fans about environmental issues.
So, for those of you who don't know Jack, I'd like to introduce you to him, his music, and his organization called "All At Once."
A Few Cool Facts About Jack Johnson: From Surfer to Songwriter
Jack Hody Johnson was born May 18, 1975 on the North Shore of Oahu, Hawaii
At age 17, he was the youngest surfer to make the finals at the Pipeline Masters on Oahu's North Shore
Jack's brief (1 week!) stint as a professional surfer ended when he had a surfing accident that knocked out a few teeth and put 150+ stitches in his head.
He graduated from University of California, Santa Barbara with a degree in film
Jack directed and wrote the soundtrack for a  surfing documentary called "Thicker Than Water."
He starred in, directed, and was featured on the soundtrack of the surf film "The September Sessions."
His debut album, Brushfire Fairytales, was released in 2001 (it's one of my favorites!)
Jack is also well-known for the soundtrack of the movie Curious George. The soundtrack debuted at number one in February 2006, selling 149,000 copies during its first week and making Curious George the first animated film since Pocahontas to have a chart-topping soundtrack.
Jack is currently on tour promoting his recently released 5th studio album, "To The Sea" – which brought him to the Virginia Beach Amphitheater where I saw him live in concert and loved every second of it!
Jack created an organization called "All At Once" to help educate his fans about environmental issues and to make it easier for them to get involved and make a difference.
An individual action, multiplied by millions, creates global change
Jack Gave Us A New "Our Song"
My husband and I just celebrated our 10th wedding anniversary, and this trip to the beach to see Jack was part of that celebration. It seems appropriate that we've now adopted one of Jack's songs as "our song." It's called "Better Together" and here's a clip of Jack performing it live with "G Love" on harmonica…it's AWESOME!
Jack Johnson's Greening Efforts
Jack's social action network is called "All At Once" and he brings it with him to each concert in the form of the "Village Green." The Village Green is an area set up at each venue where fans can learn about and participate in various environmental efforts. The idea behind All At Once is "an individual action, multiplied by millions, creates global change."
In this interview, green living expert Sara Snow talks with Jack and his wife about their greening efforts while on tour: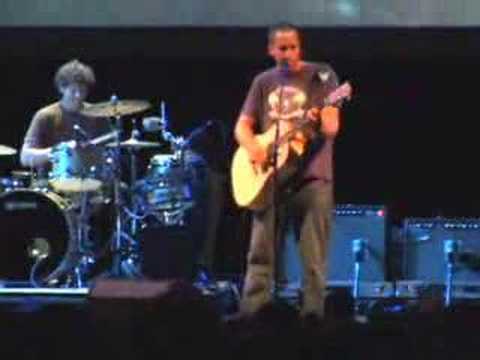 If you're planning to catch Jack on tour, make sure to check out the Village Green when you go! You can get more info from the Greening area of his website. Here's a shot of some of the Village Green action from the Virginia Beach concert:
Some of the vendors and organizations represented at the VA Beach Village Green:
Hampton Roads Buy Fresh, Buy Local
We had a great time at Jack Johnson's "To The Sea" concert, and I just wanted to introduce him to those of you who may not have known him yet. If you like laid-back, toe-tapping, feel-good, beach kind of music, make sure to check out Amazon's  Jack Johnson Page
and grab some music!